This past weekend I photographed a 1st birthday party with an Elmo and Cookie monster theme. As I was going through the pictures my daughter saw the picture of a little cake (made for the birthday boy to smash) with cookie monster on it and instantly proclaimed that she wanted cookie monster cupcakes. This idea has been in her head ever since and she is constantly asking to make cookie monster cupcakes, so today after playgroup I decided to help her make some cookie monster cupcakes.
This is what we came up with. They are chocolate chuck cupcakes with blue buttercream frosting.
We made the fur by piping the frosting on with a cake decorating tip (the one normally used to make leaves). And we used chocolate chips for the eyes and mouth.
Of course there can't be a cookie monster without cookies. We used cookie crunch cereal for our mini cookies.
There are the perfect size to fit into cookie monsters mouth, but bigger cookies would be fun too.
So after days of begging for cookie monster cupcakes here they are. I confess that not all the cupcakes were made into cookie monster and not all of them turned out,
but she didn't seem to mind.
I am linking this project up with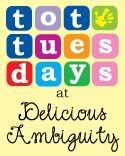 and other friends
here
.